Camera w/5-Inch LCD Display
M-Depot Item No: S-22820
Price: $899.95
Add This 5-Inch Display To Any C-Mount Microscope or Lens
Includes Genuine Sony Electronics
Color LCD Monitor for Comfort and Ease of Use
640x480 Live Motion (30fps) Screen Resolution
Analog Video Output
Adds Multi-User Viewing Capability To Your Microscope or Lens System, No Computer Necessary
Capture Still and Live Images to Built-In Removable SD Card
Compact & Lightweight
Built-In Crosshair Function Display On Monitor
Wired Control Switch Included
---
go to product details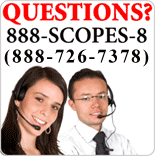 ---
Sales & Customer
Service Assistance:
Monday - Friday
8:00 AM - 5:00 PM PT 1-888-SCOPES-8
(1-888-726-7378)
Email Us
What do our Customers say about us?


Camera w/5-Inch LCD Display
Add This Monitor To Any C-Mount Device, No Computer Necessary!
Upgrade any microscope with this camera and its genuine Sony electronics and a 5-inch LCD display. Now you can view your magnified target using a bright, clear monitor rather than microscope eyepieces. While this is typically done using a camera/computer combination, sometimes that is more complex than the situation requires. By connecting this camera/monitor to the c-mount port of your microscope, you can view specimens or objects on the LCD display which are easy to see and to share the view with others. This setup features a built-in (30fps) camera which is great for taking quick photos and videos of your findings- it even includes a 4GB SD card to store your snapshots or videos, and a video output port for connecting to another external video monitor. Perfect for high-throughput inspection stations, Q.A. and Engineering labs, conference rooms, or anyplace you want to quickly and easily view a sample. You donít have to worry about booting up a computer or any of the related complexity and maintenance headaches.
FEATURES:
5-Inch Color LCD display attached to a camera built with genuine Sony electronics w/adjustable image, contrast and brightness settings
Built-in SD card allows users to capture and save images without using a computer
Internal flash storage, where images may be stored without included SD card or computer
Analog Composite (TV) Video Output Port with BNC Connector
Compact and lightweight
Wide viewing angle for multiple-viewer applications, conference rooms, etc.
Easily and conveniently position the monitor onto the top of your microscope
Image Sensor
1/3-inch Sony Brand CMOS
LCD Screen
5-Inch LCD Display
LCD Screen Resolution
640x480pixels
Removable SD Card
4GB (included)
Display Interface
Composite Video Output
Keypad Functions
Mode, Menu, UP, Down, Left, Right, Okay
Captured Image Size
5Meg/2692x1944 (Default),
3Meg/2048x1536,
1.3Meg/1280x1024,
and 0.3Meg/640x480
Captured Image Quality
Adj. High, Medium (default), and Low
Captured Image File Format
JPG
Video Recording
Max: 640x480 (30fps)
Video Image Size
640x480 (30fps)
Video Image Quality
Adj. High, Medium (default), and Low
Video File Format
AVI
Video Frame Rate
30 Frames Per Second (Default),
1fps & 10fps (optional)
TV Output System
Composite NTSC/PAL, BNC Connector
Menu
On Screen Display
Adapter
C/CS
Input Power
AC 12V

Additional Product Information